Ballet Victoria Conservatory Aspirant Program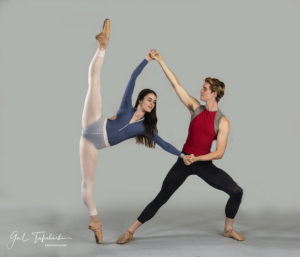 The Ballet Victoria Conservatory Aspirant Program has been in existence for 6 years, providing a unique opportunity for dancers making that tough transition between student and professional. Over the years, Ballet Victoria Conservatory (BVC) Aspirants have gone to secure contracts with Ballet Victoria as well as other professional companies worldwide (Alonzo king LINES Ballet, Oklahoma City Ballet, Les Grands Ballets Canadiens de Montréal, Ballet BC, San Jose Ballet).
This is an intense, full time, post-secondary program for dedicated aspiring professional dancers wishing to gain professional experience and train amongst the Ballet Victoria (BV) company dancers.  Dancers get a complete professional overview of the art form and its requirements and an in depth and unique preparation to enter the job market.
The program follows the company schedule with four productions and touring in Canada and the USA. Aspirants take daily company classes with Ballet Victoria's Artistic Director and spend rehearsal with the company. Dancers also have the opportunity to get private coaching with BVC Ballet Master and BV Artistic Director.
The repertoire includes classical ballet and contemporary works by Paul Destrooper and other visiting choreographers. Aspirants learn all the current company repertoire and have the opportunity to be cast in each of BV's productions both in Victoria and on tour. The Aspirants also have the option to take extra evening classes with BVC to improve their technique in ballet, pointe, contemporary.
Aspirants are pushed positively with realistic goals and given the proper tools to succeed in the professional dance world. Students will also have the rare and unique opportunity to work and perform with live music with the Victoria Symphony each season.
The focus of BVC's Aspirant Program is on developing a thorough understanding of the profession and both the physical and mental demands as well as honing technical skills and artistry by:
Collaborating with artists from other genres (musicians, poets, visual artists and musicians) and making connections with established artists in their field which promotes the future of their career in dance
Learning how to work with professional photographers for marketing materials (the ability to have a solid understanding of how to present oneself visually is invaluable to the dancers' success)
Working with media, practicing public speaking  and doing interviews
Performing for a variety of audiences in a variety of venues from school gymnasiums to international main stages in Canada and the USA. Building confidence through successful performances promotes artistic generosity and risk taking on stage for the artist and provides a strong connection with the audience. Performances in public school also give Aspirants the opportunity to be role models and to inspire youth towards physical literacy as well as to the arts.
Admission:
by audition only. Prospective students need to provide an audition package with: their CV/resume, video of a short solo performance, letter of recommendation from a licensed professional. Based on this information, an interview (in person or via videoconference) will be scheduled to assess the candidate's  motivation. Selected Aspirants are expected to attend the Summer Intensive Program (4 weeks in July) in order to work with the Artistic Director and prepare for the season.
Schedule:
From August to the end of May (42 weeks per year for 2 years with breaks in January and July)
5 days a week + tours (British Columbia and the US)
Tuition fees:
$6,000 GST included for the 2-year program (payment plan available per month as well as scholarships)
If interested, please contact Ballet Victoria Conservatory Ballet Master, Ms Andrea Bayne, via email at bvclasses@balletvictoria.ca or phone 778-402-9062.