Don Quixote Excerpts and New Works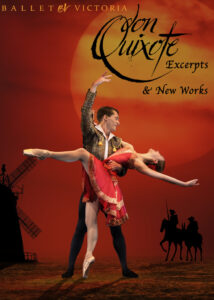 Ballet Victoria will perform excerpts from Don Quixote which boasts one of ballet's best musical score and is a display of balletic bravado. Former Ballet Victoria dancer Bethany Le Corre shares her first commission titled 'Incompass.' The neoclassical-lyrical choreography embodies vast movement and passion through the music of Philip Glass. "Matricide", a new ballet about Man's careless destruction of nature, featuring scores by Debussy, Shostakovich, and Mozart will take you on a journey of beauty, destruction and rebirth. On the program as well, a hypnotic and passionate duet to Ravel's iconic "Bolero" exploring one's primal need for connection and love.
In the event of a performance cancellation due to COVID-19 restrictions, Ballet Victoria cannot guarantee a rescheduled performance.
Don Quixote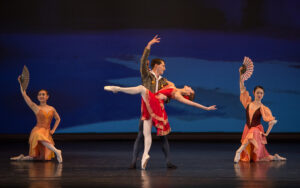 Don Quixote is one of classical ballet's largest work. Set to music of Ludwig Minkus and choreographed by Marius Petipa, it was first performed by the Bolshoi Ballet in 1869. It is based on a section of the Spanish Novel by Cervantes and is only performed by very large companies worldwide.
This is a "best of" version with some steps inspired by Petipa and other original choreography by Destrooper. Don Quixote boasts one of the best musical score in ballet. It is vibrant, energetic, passionate and romantic. It shows off the dancers technical and dramatic skills as well as their contagious passion for life through dance.
New Works
Ticket info