Broadway on Pointe and other works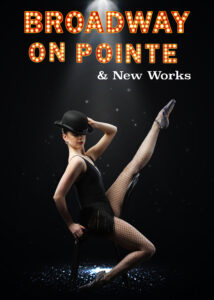 Singing, dancing, acting! Dramatic, bold, and beautiful; two stars collide on the roller coaster of fame in this one-act ballet to Broadway's most iconic tunes. The program will open with Le Banc, a series of vignettes set around a park bench choreographed to Bach's cello suites, and one new creation. Simply, an exhilarating performance.
Ticket info
TICKETS: Adult tickets $50.  Discounts for children, students, and seniors.
VENUE: Kirk Hall, 680 Courtney Street
DATES:
Friday, October 7 at 7:30PM
Saturday, October 8 at 7:30PM
Sunday, October 9 at 2:00PM
Friday, October 14 at 7:30PM
Saturday, October 15 at 7:30PM
Sunday, October 16 at 2:00PM
Friday, October 21 at 7:30PM
Saturday, October 22 at 7:30PM
Sunday, October 23 at 2:00PM
More about the Music